Marine pollution control : Kribi acquires new protection equipment
Marine pollution control : Kribi acquires new protection equipment
Marine pollution control : Kribi acquires new protection equipment
Accueil

>

Marine pollution control : Kribi acquires new protection equipment
The Port Authority of Kribi just acquired a huge stock of equipment to protect its maritime and land domain.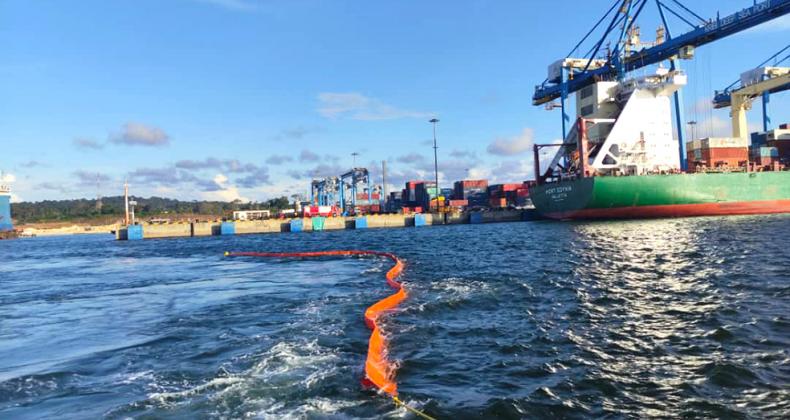 Operations in a port can generate solid or liquid bulk pollution in its water bodies especially during handling operations or through rainwater runoff. This can equally happen when the port accommodates a large number of vessels that emit carbon dioxide and sulphur. As part of preventing this type of disasters, PAK received last 10 September a huge stock of top-notch equipment aiming mainly at controlling land and maritime spills. They include:
Absorbents that can remove oil from a spill site;
Recovery bins to store hydrocarbons collected after a spill;
REYCAU 350 and BARRACUDA booms and their deployment equipment to contain spills on water bodies;
A skimmer to recover oil from the water body;
Various personal protective equipment.
This equipment will be used by the staff of the Harbour Master's Office and of the Technical Department and is actually the first batch of an order that aims to increase PAK response capacity in case of an oil spill. It will equally help to comply with national pollution control standards.
Get equipped, train and monitor
For a better ownership and use of this equipment, several training sessions have been organized for final users and it was an opportunity to get to know how to use and maintain such equipment. For PAK managers, this acquisition is an additional step in the environmental protection policy put in place at the start of the company's operations. According to Cyrille NKOA ESSOMBA, PAK Technical Manager, "it is important for the Kribi port authority to align with national and international standards. With this acquisition, the Top Management wanted to have the means not only to react in case of oil spill, but also to respond positively the most rigorous rules in the domain." The next batch of pollution control equipment is expected in the forecoming weeks.