Operations in the Port of Kribi: Focus on new niches
Operations in the Port of Kribi: Focus on new niches
Operations in the Port of Kribi: Focus on new niches
Accueil

>

Operations in the Port of Kribi: Focus on new niches
History will remember that on Wednesday 5 January 2022 the vessel ''UTRA ANGEL'' berthed at the multipurpose terminal of the Port of Kribi, carrying a cargo of 21,380 tons of clinker, a raw material for cement production.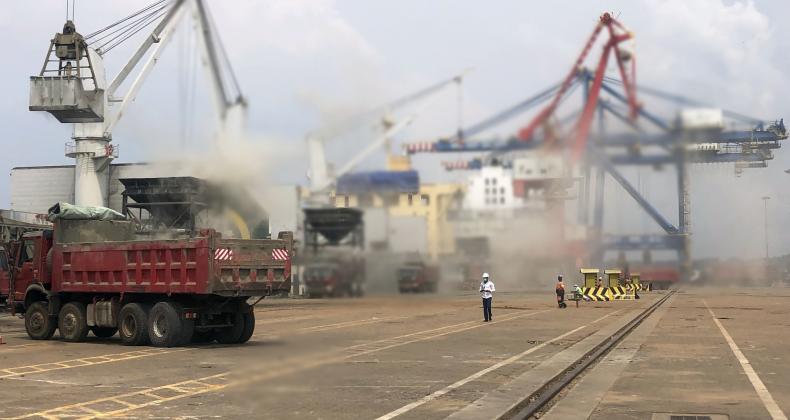 One thing for sure, the echo of the resounding success of the development of activities at the Port of Kribi is already bearing fruit and has opened the way to the search for new market shares. Evidence thereof is the dominant role the Government has given this port in decongesting the historic port of Douala, as part of the port activities and economic development of the sub-region, but also the confidence that this young company has managed to garner over time with large national and international companies and investors thanks to its know-how and expertise. It was in this context that on Wednesday 5 January, the "ULTRA ANGEL", a vessel carrying a cargo of 21,380 tons of clinker destined for MIRA, a company based in the economic capital Douala, docked at the multi-purpose terminal of in the port of Mboro. To carry out this unique operation, Kribi Multipurpose Terminal (KMT), the concession holder of the Multipurpose Terminal, put in place the operational and logistical arrangements necessary to handle and transport this special cargo (terminal maintenance, tarpaulins, transport trucks, storage area) under the coordination of the port authority.
This operation, which opens a new type of traffic within this port, once again testifies to one thing: "the Port of Kribi continues to grow in developing its activities and the logistical and industrial area. The performances observed and the new market shares found here and there are a glaring indication thereof. Moreover, a second vessel is scheduled to arrive in the next few days, this time carrying a cargo of around 50,000 tonnes of this mineral.
As a reminder, clinker is a raw material necessary for the production of cement and the introduction of this new type of traffic at the Port of Kribi is not trivial. Indeed, the ongoing construction of the new CIMPORT cement plant in the logistics and industrial zone of Kribi and the development of the activities of the new NOMAYOS plant of the Cameroonian cement giant CIMENCAM bode well for Kribi. This is equally the result of the vision of the top management of this public company which is putting all hands on deck to make this port a prime location in the sub-region.