The good performance of the Port of Kribi, The Port Accommodates its 1000th Vessel
The good performance of the Port of Kribi, The Port Accommodates its 1000th Vessel
The good performance of the Port of Kribi, The Port Accommodates its 1000th Vessel
Accueil

>

The good performance of the Port of Kribi, The Port Accommodates its 1000th Vessel
A lot of people welcomed the vessel MAERSK COPENHAGEN Singapore which berthed the quay of the Container Terminal on Wednesday 18 November 2020. A symbolic call hailed by Patrice MERLOM, the General Manager of PAK.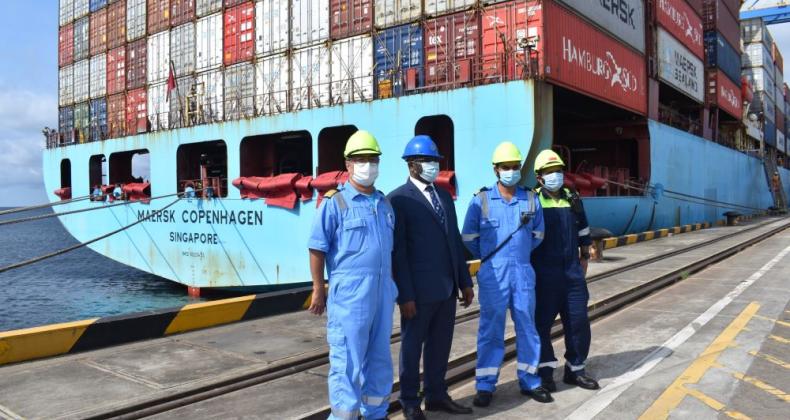 For the 1000th commercial call at the Port of Kribi, history will remember that the lucky vessel is the MAERSK COPENHAGEN Singapore, a 250m long container ship, which docked on Wednesday 18 November 2020. For this symbolic call, a protocol ceremony was organised at the Port on Thursday 19 November at midday. Patrice Melom, the General Manager of PAK, flanked with his close colleagues, including the Harbour Master (COMPORT), Bertrand NDI, and the Operations Manager (DEX), Michael MAMA, went to toast the ship's crew on this occasion. Noel S. ASUNCION, Captain of the MAERSK COPENHAHEN was pleasantly surprised by this welcome. «We docked the day before and nobody told us that we were a symbolic call for the Port of Kribi.
Our docking manoeuvre was perfect, and we immediately had the pleasure to discover a very functional port, with gantry cranes operating at a particularly satisfactory pace. We will leave the Port of Kribi very happy. Happy for having been able to meet the General Manager, for having received a gift, but above all happy for marking the history of this young port". As for Patrice MELOM, it is very exciting to count the number of ship calls. «We started from 1, then 10, 100, 500 to arrive today at 1000. The symbolism is obvious. In any case, it is a real source of satisfaction for the Port Authority of Kribi. It shows that traffic is gradually increasing at the Port of Kribi. Moreover, our users are satisfied with the quality of services rendered in our Port, which should make Cameroon as a whole proud.»
Moreover, «the facilities are still very limited,» says the General Manager. Allusion was made in particular to the quay line, less than 700 metres only. Thus «if in less than three years of operation, we still manage to register 1,000 vessels in this hyper-competitive environment, it means that the potential is indisputable. The forecasts remain promising, which moreover motivated the extension works which are underway, to have 7000 metres additional quay space, a better storage capacity and additional equipment». This 1000th call is a good indication of the ever-increasing attractiveness of the Kribi port, the dynamism of all the players in its community and a guarantee of the confidence of the Key Players in the field of international maritime transport.