Features and facilities of the Multipurpose Terminal
Features and facilities of the Multipurpose Terminal
Features and facilities of the Multipurpose Terminal
Accueil

>

Features and facilities of the Multipurpose Terminal
The multipurpose terminal has a nominal capacity of 1.2 million tons per year, while the container terminal can handle 300 000 TEU per year under normal operation conditions.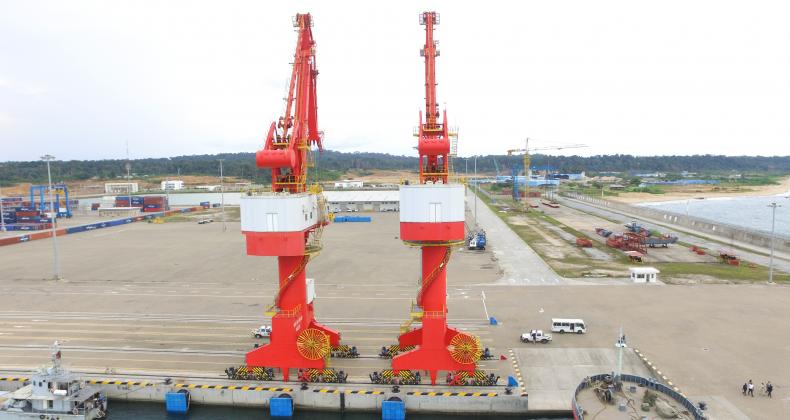 Both terminals are equipped to handle, store, warehouse goods as follows:
At the multipurpose terminal
Warehouses of more than 4 000 m²
Open space with a 14-ha surface area
Tow (2) boom cranes with a lifting capacity of 25 and 40 tons respectively for handling heavy loads
A maintenance and servicing workshop
Dedicated administrative and technical premises.
At the container terminal
A 10 -ha container storage area
Four (4) weighing stations at the land access gates of the port area
An equipment maintenance and servicing workshop.
Both terminals share the following
Running rails for platform gantry cranes;
A fence in compliance with the ISPS Code standards (dimensions of the fence, building materials) protecting port services area;
A road network within the port that covers 233,686m2 of waterways including a concrete and paved road;
A fire station equipped with: 2 tanks of 500 m3, 2 electric pumps and 1 diesel pump to ensure a flow rate of 80l/s for the stores of the multipurpose terminal and 50l/s for the container terminal, 1 jockey pump and 1 pressurized tank to maintain a 4-bar pressure of in the network;
A drinking water pumping and treatment unit made of 4 boreholes each 60 to 70m deep: Q=10m3/h, HMT=30m, Power=4kW, boreholes are used on a simple principle: 2 running and 2 on stand-by; a wastewater treatment plant;
An electrical power supply system comprising a power plant (3 diesel generators, 2 of which are switched on and the 3rd one is for back-up: unit power 3250kVA/2600kW COP, Voltage 10kV, Frequency 50Hz and rotation speed: 1500 rpm) and SS1 and SS2 electrical stations;
An operating area lighting system consisting of:
15 poles of 35 m height for lighting storage areas, equipped with 1000W and 2000W projectors.  Lighting will be managed through a computer located in the administrative building and used for supervision; 2 poles of 20 m to light the area located behind the Port; streetlamps for road lighting in the Port;
65 streetlamps of 8m height, equipped with 250W lamp;
20 streetlamps of 10m height, equipped with 400W power lamp.
Security/Safety
A study of the Port and Maritime Safety Blueprint of the Kribi Port Industrial Complex, namely that of the General Port in Mboro is underway. It aims to provide a safety and security document of the Port and its terminals. The objective here is to describe the methodology and actions to be implemented, not only to secure the construction site against malicious behaviours, but most especially to prepare the compliance of port operations with ISPS standards.
Access and exit roads
The Port is currently connected to town by an access road of 32.5km long, 7.5m wide and with a 2 m shoulder on either side for a T2 current traffic class (1 lane each way) with structures sized to support exceptional traffic.
The execution of the general development plan equally provides road networks and railways. In this regard, the development work on the Edéa - Lolabe motorway has been under way for two years and is currently in a near-completion state (65%).
Economic hub
The Port is part of the Kribi Port Industrial Complex which intends to develop an economic hub. The complex plans industrial, commercial and logistics activities on a 20,000ha surface area.