IMPORT/EXPORT, The ASAF maritime line is back
IMPORT/EXPORT, The ASAF maritime line is back
IMPORT/EXPORT, The ASAF maritime line is back
Accueil

>

IMPORT/EXPORT, The ASAF maritime line is back
Suspended in 2019 for various strategic reasons, the Asia direct service will resume activities next 8 August 2020.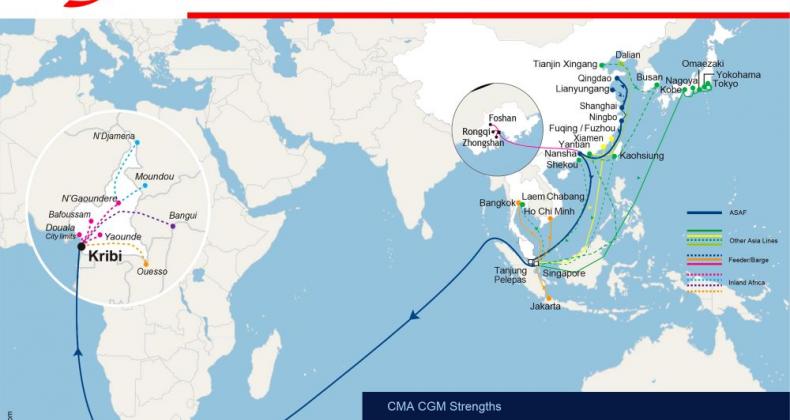 Great news for the Port Authority of Kribi. The ASAF service line operating between Asia and the West African Coast will soon be back. The confirmation thereof, as well as the berthing schedule was published by CMA-CGM, one of the line operators. Four vessels are therefore expected next month, the first on Saturday 8 August 2020. "The resumption of ASAF operations is the result of sustained lobbying done by the Port Authority of Kribi, in close collaboration with KCT, concession holder of the Container Terminal and CMA-CGM local teams. Tariffs adjustments done by all and sundry have equally been an asset.
We should not forget the arrival of Key Players such as Maersk which give room to cooperation and therefore make service to Kribi viable.", says Habib IYA, Head of the Sales and Marketing Directorate, PAK. It is worth noting that from 2 March to 9 December 2018, the first year of operations of the Port of Kribi, the ASAF service line made 32 ship calls out of 190 totalling 70,000 TEUS (transhipped). This accounted for half of the containerized traffic, i.e. 30% of the turnover of onshore activities (except feeders and other relay vessels). A good deal for PAK, but not for ASAF operators. Indeed, in the balance sheet, CMA-CGM recorded a deficit, all the more so as the strategy deployed did not yield local traffic development. However, the ASAF service served Kribi on a weekly basis.
Asian ports were served by vessels with a capacity of 8000 TEUs, with Kribi as the hub port in Central Africa. Containers unloaded at PAK were dispatched to the secondary ports by means of feeders or by a second shipping line to Europe. It i now clear that operations will resume next month. Specific communication to clients is being prepared in this regard at the behest of PAK Operations Department (DEX). At the same time, the operator of the Container Terminal is preparing namely to manage docks and storage spaces for containers. As a matter of fact, since the opening of the local line MISAWA, operated by Maersk and CMA-CGM, handling rates have been significant, especially with berths of deep-draught ships, with more than 14.5 metres deep. This will reinforce PAK's confidence in the attractiveness and infrastructural capacities of the Port of Kribi.