Government Action, Kribi Port Catches Visitors' Interest at SAGO
Government Action, Kribi Port Catches Visitors' Interest at SAGO
Government Action, Kribi Port Catches Visitors' Interest at SAGO
Accueil

>

Government Action, Kribi Port Catches Visitors' Interest at SAGO
The 9th edition of the Exhibition on Government Action (SAGO) which started this 22 September in Yaoundé was an opportunity for the General Manager of PAK, the leader company in the Port of Kribi, to explain the role of the Port in the vision of an emerging Cameroon by 2035.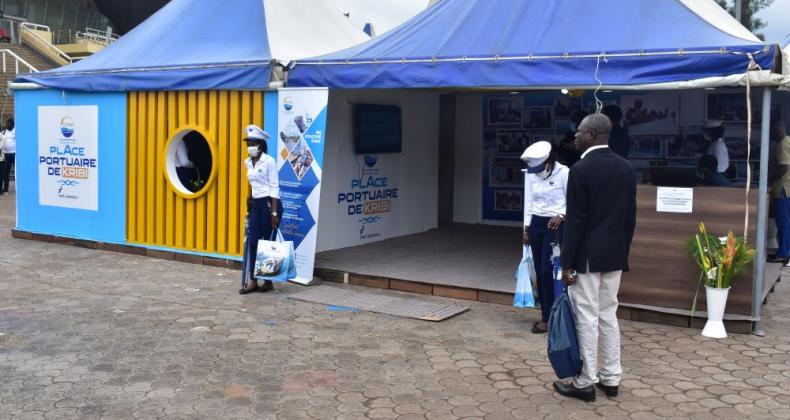 The 2020 Exhibition on Government Action (SAGO) is of great importance for the Port Authority of Kribi since the event is an annual platform for visibility and exchange on Government actions. SAGO was opened by 2 Government officials: The Ministry of Communication, representing the Prime Minister, Head of Government, René Emmanuel SADI and the Minister of Transports, Jean Ernest Massena NGALLE BIBEHE. They were flanked with dozens of General Managers of state-owned companies, representatives of public and private institutions and development partners. From the opening statement to the symbolic ribbon-cutting and a guided tour of the various exhibition booths, the Representative of the Prime Minister went from curiosity to wonder.
Curiosity came from the picture gallery that showed the highlights of PAK's activities, from the laying of the foundation stone to the present day. Wonder then came when he was presented the intense activity carried out by PAK and its partners among which SMIT-LAMNALCO in the Port since 2 March 2018. The Port of Kribi came first in terms of ovation as its booth was the most beautiful and attractive with stunning hostesses dressed unlikely glamorously with sailor's caps and shirts. This made the booth literally flooded with visitors and almost completely full.
Once the official ceremonies were over, the second highlight of the first day of SAGO was having Patrice MELOM, the General Manager of PAK, in the limelight. Invited to take the floor during a thematic conference organised by the Ministry of Transports on structural transformation and modernisation prospects of the transport and meteorology sector in Cameroon, Patrice MELOM focused his presentation on three aspects: quality infrastructures, the attractiveness of the Port of Kribi, paperless procedures and flexible tariffs. The logic and ensuing consequence of the above was the amazing increase in customs revenue to more than 7 billion CFAF in the month of August 2020 alone.