First ship call of the French Navy at the Port of Kribi
First ship call of the French Navy at the Port of Kribi
First ship call of the French Navy at the Port of Kribi
Accueil

>

First ship call of the French Navy at the Port of Kribi
Special arrangements were made on Wednesday 23 October 2019 to accommodate the Durance class command and replenishment ship (BCR) "SOMME". A diplomatic ship call that heralds future commercial calls.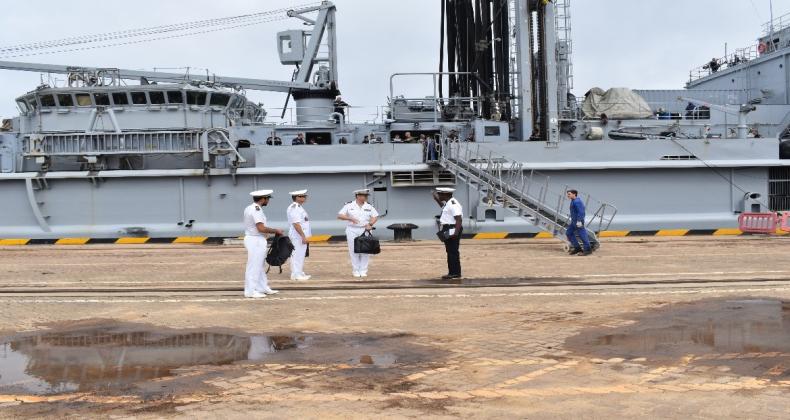 An impressive 158-metre-long military ship, with a draught of nine metres and a crew of 180 people, docked on 23 October at the multi-purpose terminal quay of the port of Kribi. The French Navy's "SOMME", a Durance class command and replenishment ship (BCR), was announced and eagerly awaited. This explains the special reception system set up, under the coordination of the Harbour Master himself.
The military vessel will be in Kribi from 23 to 28 October, for maintenance and supplies, as a prelude to a military maritime security drill in the Gulf of Guinea. But for the Port Authority of Kribi (PAK), this is an excellent opportunity to open up the potential to develop military freight, since the port already has a dock and offers nautical services, water/electricity supplies, etc.
Immediately after landing in Kribi, the Commander of the SOMME and his close collaborators, together with the officers of the national navy and the Harbour Master, made courtesy visits to the city authorities in turn. First, the Senior Divisional Officer of the Ocean Division, then the Government Delegate to the Kribi City Council and then the General Manager of PAK, Patrice MELOM, who was commended for the quality of the equipment and the efficiency of the teams.
What actors have to say
"The docks are in perfect condition"
Commander Gauthier DUPIRE, Commander of SOMME.
"We have docked at the port of Kribi as a prelude to a major drill that will take place throughout the Gulf of Guinea, from Angola to Senegal. It is a response to a process launched here in Cameroon in 2013, dealing with maritime safety in the above-mentioned area. The drill focuses on several threats including pollution, piracy, illegal trafficking and rescue at sea. The French navy comes to provide its support and know-how to lead this drill and share its expertise.
We must admit that the young port of Kribi is a beautiful baby since the docking went very well, the docks are in perfect condition, the tugs and the pilots were very efficient. A nice manoeuvre that went safely and enabled us to dock with confidence."
A prelude to commercial calls
1st Class Captain Charles René KONTELIZO, Harbour Master of the Port of Kribi.
"As part of the marine cooperation between Cameroon and friendly States, our ports regularly accommodate military vessels. The French Navy's call at the Port of Kribi is unprecedented because the port is very young. Nevertheless, this is a diplomatic call that is a prelude to commercial calls for the transport of military equipment. Indeed, there are a number of military equipment that has so far transited through the port of Douala and they will now pass through Kribi to the Central African Republic, Chad, in short, to neighbouring countries".