Digitisation/CSR, Patrice MELOM Strikes Twice in One Fell Swoop
Digitisation/CSR, Patrice MELOM Strikes Twice in One Fell Swoop
Digitisation/CSR, Patrice MELOM Strikes Twice in One Fell Swoop
Accueil

>

Digitisation/CSR, Patrice MELOM Strikes Twice in One Fell Swoop
The General Manager of PAK recently led delegations in Yaoundé to make partnership contacts for digital equipment and corporate responsibility.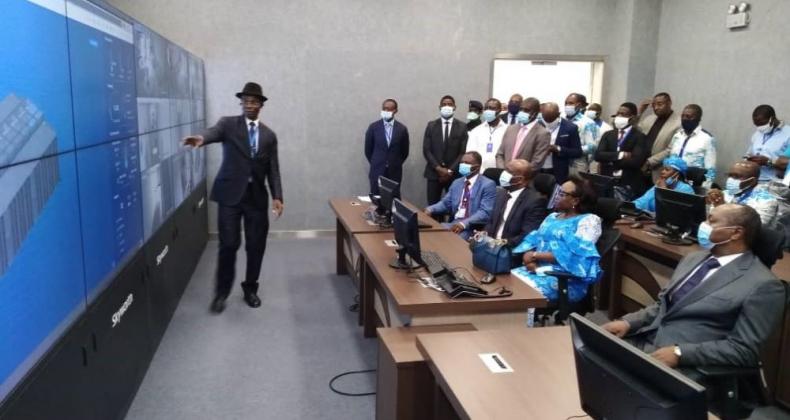 The DATA CENTER of the Cameroon Telecommunication (CAMTEL) opened its doors last Friday 30 October to a delegation of the Port Authority of Kribi (PAK) led by Patrice MELOM, the General Manager, flanked with his close collaborators, namely Marcel BELINGA BELINGA, Information Systems and Documentation (DSID) Manager. The meeting aimed to explain to CAMTEL officials PAK's needs in terms of telecommunications, especially the fibre optic network project for the Port area, the implementation of a VHF radiocommunication solution and, closer to us, the securing of the Port Information System (PIS) servers, currently being implemented in the Port of Kribi. After the DATA CENTER, the delegation visited the Network Operations Center /NOC) which monitors all the facilities in the country, and equally of the services provided by these facilities.
While thanking CAMTEL Top Management for the welcoming and the time dedicated to PAK, Patrice MELOM explained that the Port of Kribi is setting up management equipment and solutions in a methodical way, as per modern standards, be it regarding telecommunications, power supply and others. In this light, PAK has decided and has been working for a while now to get closer to the companies that can provide assistance and support. "When it comes to telecoms, everyone knows that CAMTEL is the right organisation.  
We presented our ambitions and agreed to set up a framework for collaboration that will enable CAMTEL to assist us in the future", the GM said. His counterpart, Mrs. Judith YAH SUNDAY ACHIDI, General Manager of CAMTEL underscores that the mission of her company is to ensure the digitization of Cameroon's economy. "From this point of view, CAMTEL has the duty to accompany public companies in this way. This is why we have set up a team dedicated to addressing PAK's needs. It is in this logic that the visit of PAK delegation to the facilities is taking place". Concerning the DATA CENTER, CAMTEL GM assures that "it is the best and the only one in Central Africa. It is a key and significant tool to store the data of all Cameroonian organisations which now have to go digital".