Revamping the Cocoa and Coffee Sectors
Revamping the Cocoa and Coffee Sectors
Revamping the Cocoa and Coffee Sectors
Accueil

>

Revamping the Cocoa and Coffee Sectors
This meeting was aimed at formulating and establishing a framework for action not only for port sector organizations but also for all national and international economic stakeholders, which would lead to the establishment of internationally rigorous standards and practices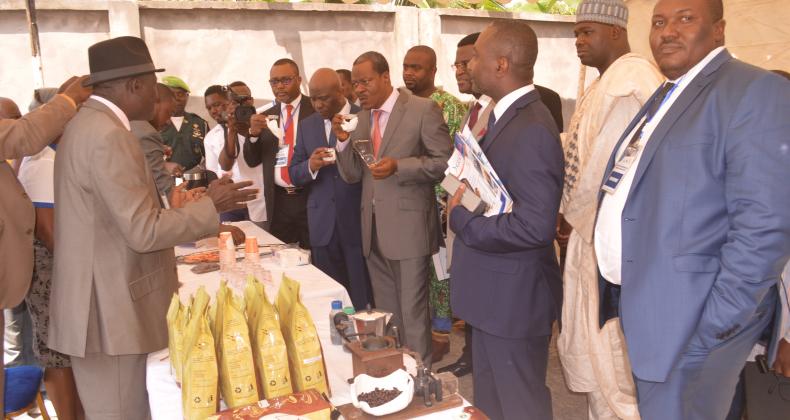 The cocoa and coffee international market is marked by an increase in global competition on major export trade places, high quality standards and high price volatility. Fully aware of these, the Port Authority of Kribi (PAK) hosted the port community and major stakeholders of the cocoa and coffee sectors on 29 and 30 November 2018 during a forum dedicated to opportunities to revive both sectors. This was equally a milestone in asserting the rise of the Port of Kribi which now has a specific interest in the cocoa and coffee sectors. The forum falls in line with the policy to support growth chains that will lead to new export infrastructures among which the Port of Kribi is a major institution.
The meeting was consistent with the PAK's constant efforts, since its start of operations, to draw and set up, for port organizations and all national and international stakeholders, a framework of action aiming at establishing operation standards and practices.
The purpose of the meeting was to put in place a framework for concerted action with the sector's major stakeholders that would lead to an array of objectives among which valorising the sector's potentials by determining the market size, the volumes according the segmentation of products, the identification and referencing of all stakeholders in the cocoa and coffee value chain, from the production of beans up to their processing.
The expectations at this forum were huge, as it was also an opportunity to lay the foundations for a new process that would enable the sector to consolidate in the coming years in the projections made by the Government and thus contribute as much as possible to Cameroon's emergence projects in 2035.
Broad-based and dedicated attendance
In addition to administrative, political, religious and traditional authorities of the Ocean Division, the forum witnessed a turnout of around 150 attendees coming from producing regions. These were mainly participants (public and private stakeholders) with acknowledged activities and expertise in the cocoa and coffee sector in Cameroon. Among others were institutional actors in charge of the supervision, regulation and support for the development of the sector; producers organized in groups or not; organizations in charge of marketing and those in charge of quality control.
The two-day workshop was focused on an overview of the coffee and cocoa sectors in Cameroon; the presentation of case studies and, finally, the feedback aimed at harnessing presentations, discussions and recommendations in order to formulate outlines of responses and/or recommendations that could revamp the sector.
In the end, these were two days of intense work that provided participants with the basic elements underlying a quality production approach, illustrated with a selection of case studies and discussions on their relevance to the coffee and cocoa sectors in Cameroon.
The forum ended with the presentation and adoption of several recommendations that would eventually lead to a revival of the cocoa and coffee sectors.