GICAM explores and discovers the Port of Kribi
GICAM explores and discovers the Port of Kribi
GICAM explores and discovers the Port of Kribi
Accueil

>

GICAM explores and discovers the Port of Kribi
Last 2 April, an official delegation of the GICAM came to Kribi to fully appreciate a port that has been operating for a full year.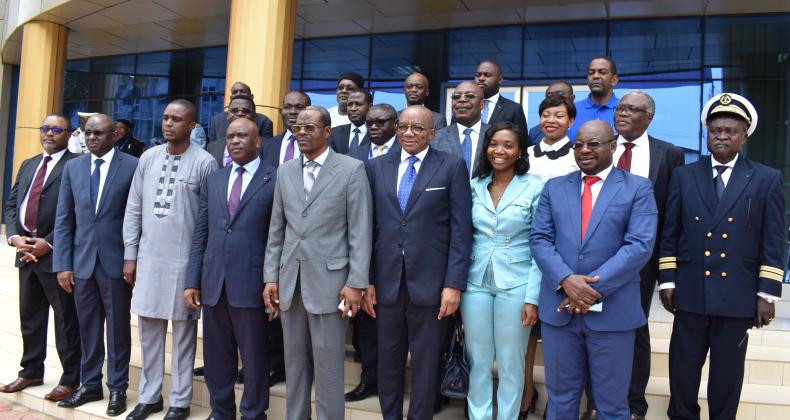 Relaxed and good-looking, Celestin Tawamba, the Chair of GICAM (Inter Patronal Groupings of Cameroon), arrived in Kribi last 2 April ready to learn. Arms crossed in his back, walking calmly, just like someone who came to acquire knowledge: learn from the port and its managers, learn about running this infrastructure so much talked about and which is still yet to be well-known or even worse, whose effective start of operations is still overlooked by a major part of Cameroonians (and foreigners). The visit of this morning aims therefore to get a full grasp of the reality and also to share the confidence of players who have been acting and supporting the development of the local economic fabric. "The Port of Kribi was set up to play a major role and it is essential that all the vital forces of our country come together to bring in the resources the Port needs for a harmonious development", M. Tawamba said.
Search for competitiveness
In his delegation, about fifteen people among which the Executive Secretary, Alain-Blaise Batongue. The same who puts in efforts backstage and upstream, to prepare one of the major moments of this institutional collaboration: the signing of the partnership agreement between PAK and GICAM in a bid to make both organisations mutually supportive of their respective development challenges. PAK's expectations are manifold: assistance, advisory, arbitration and, most especially, networking and clients: "the overall objective of what we are putting in place in a common effort is, for PAK, a new and young organization among large Cameroonian companies, to show you how this port and its stakeholders, can help enhance the competitiveness of the entire Cameroonian and sub-regional economy, by helping increase goods movement as much as possible" said Patrice Melom, General Manager of PAK.
A new economic hub
Today's event was held five days after 2 March marking the first year of effective start of operations. A day that all the stakeholders of our local economy can consider as a milestone in taking control of the country's fate. For those who are yet to know it, the Port of Kribi has been taking shape progressively in the port and maritime industry and is fast becoming a new economic hub. So, in the last twelve months, the following outstanding figures were recorded: 329 ship calls, 160 000 containers handled, 10 million tonnes of goods processed, 230 000 cubic meters of logs exported and a majority of transhipment operations.  One can thus say that the long-awaited automation and credibility have been achieved to the satisfaction of an increasing number of port operators and clients.
The GICAM delegation ended its visit with a long and sinuous tour in Mboro, located 35 km from the town of Kribi, where the port itself is established. There, Celestin Tawamba took a full grasp of this major 250-billion investment embarked on in 2011 and completed in May 2014.