A Board meeting to approve an ambitious budget
A Board meeting to approve an ambitious budget
A Board meeting to approve an ambitious budget
Accueil

>

A Board meeting to approve an ambitious budget
The procurement plan, indexed to the budget, presented the allocation and formal implementation of the company's efforts and strategy.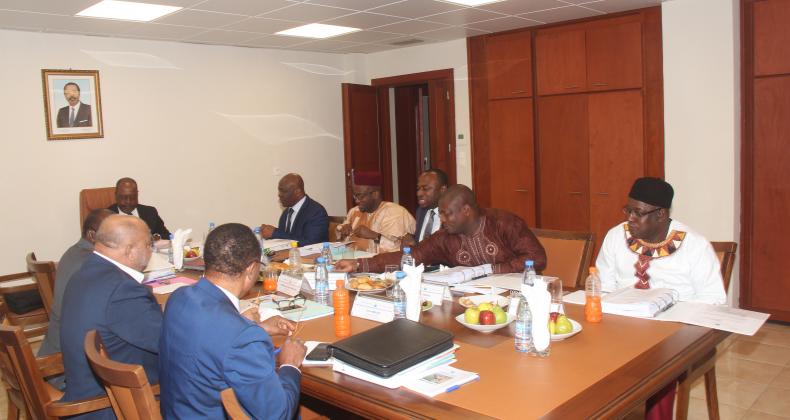 A Board meeting is key moment in any company in the world. The quality of the participants, the structure and nature of the deliberations, the complexity of the subjects and the media coverage of the issues: all these ingredients are generally used to make such a sequence an important and fruitful moment during which the destiny of the community involved in the company, or linked to the company by a profusion of interests, is determined. At the Port Authority of Kribi (PAK), as elsewhere, the rule was respected on last 27 December when the organisation's Directors met at 10 a.m. at their representative office in Yaoundé, under the chairmanship of Jean-Paul Simo Njonou, for the twelfth ordinary session of the institution. Important internal and external expectations, so that all stakeholders can get a hold of the way forward over the next twelve months.
A session held, as usual, in camera for the examination of the budget envelope presented by the company's general management for investments and operations planned for 2019. Six hours of meetings during which all points of view were defended around the company's global strategy, which aims to consolidate its activity in a competitive environment and, by doing so, to rapidly provide the operating infrastructure long awaited by various players, including logistics areas and warehouses.
A shared understanding of issues
Hence the decisive importance of the procurement plan presented as the reference document clearly indicating the formal allocation and implementation of the company's efforts and strategy in its attempt to formulate and acquire high-quality tangible and intangible capital. A daunting task, as it requires numerous arbitrations and, upstream, a perfect understanding - by all the actors involved - of the challenges and prospects for the development and enhancement of the organisation, in the short, medium and long terms.
At the end of the day, the General Management obtained from its directors a provisional budget of some CFAF 30.5 billion divided into two main expense areas: investments, for CFAF 11.672 billion and operations, for CFAF 18.829 billion. An increase in volume of CFAF 4.567 billion, for 12% in relative value. This will accelerate PAK's projects and initiatives in a busy national and international context, where revenue stability is far from being a guarantee.